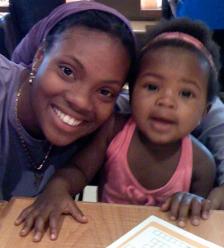 My name is Sayida Peprah. I witnessed and assisted my first birth, as a teenager, for my close friend, who was becoming a teen-mom, at the time. For many years after that, I witnessed and assisted numerous births, but it was not until I became pregnant and gave birth myself, that I realized the profound impact a support woman/Doula can have on the experience of a mother bring life into this world.
Despite how well informed I was about the process of pregnancy and birth, my belief that birth is natural and my excitement to have my own child, early on I, like most women, experienced anxiety and wavering self confidence. Being aware of the power of the mind to allow an easy pregnancy and birth, or create a complicated one, I immediately sought out a Doula. Having a Doula who, like me, is spiritually grounded, naturally intuitive and supportive in nature, helped me reconnect and maintain connection with the calm and confident birthing woman that I am. With that mentality, I was able to consciously surrender to a completely natural, powerful and effortless 3 hour active labor (3-10 cm) birth.
Because of my experience, I more deeply understood that what makes a good Doula is an unwavering belief in the mother and in the natural process, which reinforces the power already within her. Driven by an inner calling to assist women in this way, a year after the birth of my daughter, I decided to take on the calling to be a Doula and have been assisting births ever since. I have assisted in homebirths, birthing center births, waterbirths, traditional hospital births and C-sections.
As I have always done, I continue to educate myself on pregnancy and birthing support, including staying abreast of current research and participating in Doula and Midwifery Conferences annually. In addition, I serve as the Director of Cultural Competency for The Association for Wholistic Maternal and Newborn Health (Los Angeles, CA) and I am an active collective member of Black Women Birthing Justice (Oakland, CA).
My philosophy toward pregnancy and birth support, which I have draw from my observations, personal experiences and education on the topic, is that consciously surrendering to the instinctual and intuitive flow of the birth, creates and allows for an extraordinary, easily progressing and empowering birth experience.
Specialties:
Understanding of the power of the mind in experiencing the ideal pregnancy and birth

Intuitive birth strategies

Sunnah of Birth- Islamic traditions in birthing

Multicultural orientation in Doula support

Experience and training in working with women with trauma and other psychological difficulties

Birth support for women who have undergone Female Circumcision (FC/FGC/FGM)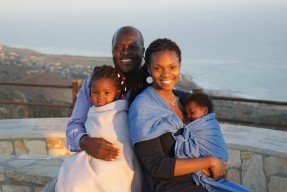 My family... Both girls born peacfully and naturally with midwives and a doula. My oldest Akua, in a hospital birth room and my baby Nyame, in our home.
Biography
Sayida Peprah, has a Doctorate of Psychology in Clinical Psychology, with a Multicultural Clinical-Community Emphasis, from the California School of Professional Psychology at Alliant International University. Dr. Peprah completed her undergraduate studies in Psychology and Religion at Spelman College. Dr. Peprah's background, both academically and in the field, afford her unique competence in instructing courses, counseling and consulting, from a multicultural perspective. Dr. Peprah has a strong belief and background in cultural competence and, in effort to expand this, has participated in numerous international, cultural immersion studies. Previously, she has traveled to Ghana, Mexico, Egypt and India, studying mental health approaches, indigenous culture and local spiritual traditions. Dr. Peprah is also a Birth Doula, who has worked with women of diverse backgrounds, and is an Instructor and Consultant with The Association for Wholistic Maternal and Newborn Health, teaching cultural awareness, cross-cultural communication and perinatal mood disorder content for the organization's trainings. Dr. Peprah is also an active collective member with Black Women Birthing Justice promoting research, education and community-based services to positively transform birthing experiences in the black community.